John faced life & death with grace & humor. I have a whole folder of his emails as they were too good to delete.
Regards, Ginger Morrison
This is very sad news. John and Gloria did so much to bring our class together for a 50 year celebration. I, too, enjoyed his 50s and 60s remembrances. I send my heartfelt sympathy to his family. May he rest in peace.
Tom Mowbray
I was so sorry to hear about John's passing. I knew he was sick but never thought the end would come. He was such a special person. My husband and I always enjoyed having lunch when he visited New Jersey and he was so looking forward to his next visit. Our thoughts and prayers go out to his family.
Our deepest sympathies, Linda and Tony DeFalco
John was a very special person to so many of us in our class. I will certainly miss all his fun emails, keeping us remembering the 50's and 60's...such great memories He brought many a smile to my face and often a good laugh, as well as thoughts of the past! We will remember him fondly! Blessings to his family and sincere sympathy for the loss of a great classmate.
Marilyn Feuerhake Smith
I don't even know what to say. Over the last several years, John and I became very good friends. I've visited him few times since our reunion, and we got together briefly a few months ago when he stopped in Westwood to see his daughter's new house. He really did not look good at that time and I was worried about him. But every time we talked on the phone he tried very hard to stay upbeat. He really had a heart of gold and would do anything for anyone. I will miss him a lot. We just lost a very good man. God bless him. John's wife, Francesca, is having a memorial service for him Wednesday November 18th in Myrtle Beach SC, however, John made her promise to come up here to New Jersey next spring or summer and have a service with his ashes. And typical of John, he left her a list of songs to play.
Skip Kelly
Thank you for passing along such sad news. I will miss John's great flow of information and humor.
Steve Akin
I also am very sorry to learn of John's passing. He e-mailed me all the time. I will miss his e-mails.
Karen Horton


Dear Class of 63,
John always told me how I was the first girl he ever danced with, it was at our social dance class at Commodore Perry School in 7th grade, I would always answer that he has been the music in my life ever since, not to mention a dear and valued friend. Over the years he sent me tons of CD's and recently a thumb drive with 1,000 oldies!! I will miss him, my computer will miss him, sometimes he would be the only personal email among ALL the ads and his jokes were the best. I opted out of the political stuff a long time ago, we agreed to disagree about a lot of that. John called me a couple of weeks ago and I feared it was to say goodbye and then the lack of emails the last couple of weeks confirmed what I feared. He fought a courageous fight against very unfair odds and did it with great gallows humor. I hope he is in rock and roll heaven and knows how much he is missed!!
Bev (Wall)

I am so sorry to hear this. John worked so hard on the reunion. But I remember that he feared he would not live long enough to enjoy it, so I am very glad he did. He deserves thanks from all of us, and he certainly has mine.
Nancy S. Erickson, Esq.
As everyone else, I was so sorry to hear about John. He often e-mailed me our shared memories about Mahwah/Allendale, our music and much more. I'm going to miss all his e-mails.
Marianne Triolo Downs
I am deeply saddened to hear about John. I enjoyed all of his email correspondence and it always reminded me of how important it is to keep ties to our past and our friends. I will always be thankful for his gift of communication and caring that he gave me and others and will miss him and his emails. My sincerest sympathy goes out to his family.
Dottie Wilson Sargent
While I worked with John, and Gloria to find the last twenty or so classmates for our Reunion, I was deeply impressed with his commitment to the task and to our class. John had skills. He was tireless. When I was lost or frustrated, he offered encouragement to help me persevere until we had located everyone. Like so many others, I got caught up in the notes about music, politics and how things had evolved over our lives. In turn, I got to encourage, John. "Hang on until we get this done. Try to be well and strong enough to come to the Reunion and see all your hard work pay off." He soaked up all the life stories and was genuinely happy to see how many of us were able to go, how happy we were to be with each other, and how we were making plans to see other again, soon. We've lost a friend and a loved one. Let's always remember that, for the Mahwah Class of '63, out of sight is NOT out of mind. John would like that.
Love to you all, Bob Shaver
I have been reading the many tributes to John Schaeffer all day and simply couldn't let the moment go by without adding to them. In May 2013 John sent me this message:
Peggy March - I Will Follow Him 50th Anniversary Recording: Exactly 50 years ago on January 22nd 1963, "I Will Follow Him" was released by Little Peggy March. She became the youngest ever female at barely 15 to have a US No. 1 Hit. She has held onto this title in the Guinness World Records for an incredible 50 years. To celebrate this iconic song, Peggy went into the studios and recorded a new version complete with a video in honour of her 50 years in show business. (you may hear this recording at: http://www.youtube.com/watch?v=V-7vnnuaoog )
You all know that he sent many of these. Sometimes 3 or 4 a day! Some funny, some poignant, some to the point, and some not so much… BUT he was continually thinking and remembering us. This one of Little Peggy March is memorable because the song came out in 1963 – remember that year?. And she did this video 50 years later in 2013 – another awesome year for us. The focus here is on John and not Peggy March, but I send this as a reminder that his emails were prolific and thoughtful. I have over 400 in an email file and I'm going to go through some of them shortly. While I'm doing that, I'll remember that as surely as the Pope is Catholic "I Will Follow Him". Eventually. I only hope I can do it with as much courage and dignity as John did.
Jim Valkenburg
Gloria sent me John's obit and asked me to pass it along to everyone. I've attached it to Jim's letter and attachment of the Little Peggy March's 50th Anniversary Recording of her hit song "I Will Follow Him". I did this for a very specific reason and I hope I get my point across without boring you. About 6 months ago John sent out a message to many of us with a link to a site called "Malt Shop Memories Cruise". So I checked it out, it looked like a real fun venue, showed it to Nina, who swore she would never go on another cruise, after getting sick on the other 3 that we've been on, and she replied "I'd love to go!". So from Nov. 2-9 we were on the best cruise you can possibly imagine if you still like "John's music". Every day and night was one big Oldies Party, whether it was at the pool, in one of the clubs, or in the main auditorium each night. Little Peggy March was one of them. The others were: The Temptations, Brenda Lee, Herman's Hermits, Lloyd Price, Dion, The Cameos, The Duprees, The Teenagers, Martha Reeves & The Vandellas, The Drifters, The Excellents, Dean Torrence from Jan & Dean, Al "Little Fats" Jackson, Ricky Nelson's twin sons, & our final night was the Beach Boys. Now I know a lot of the original artists are no longer with us, however all the headliners were there. "Oh What a Week!!" They mingled with us, took pictures if we asked, signed autographs, etc. All thanks to John, we had a blast! Just about a week before we left, he sent an email out that said we might not hear from him for a while, and maybe not at all. I called him and told him to hang in there, and that we took him up on the cruise suggestion. We took 1 more week vacation in Florida and got home this Sunday. An hour later I received the sad email from Gloria.
Jim, you said it very well in your last sentence. Those of us that were privileged enough to get to know him well, know how big a heart he had, and how much he treasured being such a big part of our last reunion, even though he couldn't be there. I'm sure he's already starting Class of '63 gatherings up in Heaven and he's the Headliner DJ.
God Bless John Schaeffer, and all of you that have said such nice things about him. And a special thanks to Gloria for what she does for our class and several others. Hope to see, talk or hear from all of you, and as Bob Hope would say, "Thanks For The Memories".
Skip Kelley
I think Jim added another key description of how John handled things towards the end, "dignity". For me, John set a standard I hope I can reach when it's my time.
Bob Shaver
John was certainly in the good guy column and was the soul of the alumni class to Gloria being the heart and worker bee. It was John who informed me that Mr. Brush lives in Charlottesville, and in fact, as I found out, next door to my daughter and son-in-law. He did make me laugh with his emails and we were co-joined politically so it is sad to know he has left us typically, however, with a great deal of dignity.
Carter Short


It is very heartening to see the outpouring of respect for a fellow classmate. May John RIP.
John Lisack Jr.


Sorry about John and my condolences to his family. I enjoy local history and his efforts brought me great reading. He and his expertise will be sorely missed I'm sure. I do history too. Now and then Dartmouth calls me up (that's a switch) and I go in and put on a workshop for them but not researched half as well as John did for us. RIP John.
Bob Black
The emails from other classmates really say it all. John was an amazing man who overcame a lot of difficulties and kept on building life. I honestly thought he would just go on forever. He will be missed by all of us who shared in his emails and the reunion.
Maryellen Sworski Baumann
I just talked to John a few weeks ago. He always kept up with my trike business and was happy to hear how we were doing. I will be dedicating my next custom build to him, because he was so enthusiastic about it. He said the theme I chose was his favorite, and he gave me some great ideas. I will really miss him. We've lost a great classmate.
Barry Lewis
I'm so sorry to hear that we've lost another classmate. Thanks for updating me. Take care!
Bernadette Zukowski Spulda
I'm very sorry to hear about John & Sharon's passing; they were great people and contributed to help make our class what it is, Great!
Bob 'Ozzie' Osborn
So many good things came as result of the MHS class reunion, not the least of which was my "new found" friend John. We talked and emailed constantly while on the search for our classmates. I fervently hoped he would surprise us all and make it to the reunion. His personal warmth and dedication to his family and to our class were amazing. To his family, my prayers are with you. You were so lucky to have him.
Joanne Williams Patterson
I can remember when I moved back to Mahwah in 1962 and went to school at the new campus type high school. I was born in Mahwah, and attended Commodore Perry until 1956, and then my family moved to PA. Upon return in 1962 the first class I attended was a history class taught by Mr. Dierman. John was one of the first to welcome me to the class of '63 and we remained friends. As we all have moved on after graduation, we lose contact with those we spent so much time with in both elementary and high school. I was able to reconnect with John via Classmates many years ago, and we remained in close contact. John was able to come down and visit with me two years ago, and at that time he confided that he felt he did not have much time left. Typical John, he concluded by saying it had been one hell of a great ride and he left me with a CD collection of some 4,000 songs. I miss him and will always remember his great smile and winning personality. Rest in peace old friend.
Paul Zabriskie
I am really saddened by the loss we all share. John's health was steadily failing but his strength of spirit never weakened. He will be greatly missed.
Carole Kowalcyk Garmendia
I can not believe I am actually including John in my "Heaven's Year Book". For years John's been joking with me about writing his own obit for this web page. I remember telling him that he would probably have to write mine and take over this site for me! I wouldn't be a bit surprised if his family finds a very humorous 'obit' tucked away in one of John's files! Of all the tributes to our departed alumni I have posted over the years, this by far is the hardest.
I re-connected with John in 1997 when I was surfing through classmates.com and saw a posting from him on the message board asking if anyone had a program from the '66 MHS Production of Brigadoon for his friend Liz Sorenson Ratcliff, a '66 MHS grad. Well, as luck would have it, I actually had that program tucked inside my '63 year book along with a few other keep sakes. John gave me Liz's contact information and from that day on Liz, John and I have shared a very close bond of friendship. John was still living in Ramsey when my mother passed on. John absolutely hated Funeral Homes, but he put his fear aside for a few moments, and I do mean a few, to offer me his condolences and support. That was a true act of friendship. John and I truly enjoyed working together on our 50th reunion. There were times when he felt too ill to continue, but seemed to rally whenever his 'sleuthing' skills were needed. I never realized just how much I depended on John being just a key stroke away until he wasn't. I believe working on the reunion gave him a renewed sense of purpose and well being. John was not only a 'big part of our 50th reunion', he was also a big part of our 25th. I seriously doubt that my "Alumni Directory" and "Heaven's Year Book", would be in existence without John's contribution of our class's contact information from the '88 reunion and the constant flow of alumni news over the years. I wonder if John realized just how much he was loved and admired by all who knew him. He touched each one of us in different ways with his humor, love of music, all those informative e mails, and to quote Jim V, "some not so much" and his undying devotion to his friends, family and classmates. I agree with Bev and Skip that John has found his way into Rock and Roll Heaven and is enjoying one hell of a reunion! Rest in peace my dear friend.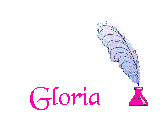 CLICK ME
TO CONTINUE
HEAVEN'S YEAR BOOK
PART TWO